Bijou Résidence is an exclusive invitation to embrace the ultimate blend of sophistication and tropical flair in the most desirable region of Mauritius. Sprawling across 6 acres of land, this opulent development is designed to offer the finest in modern living in a highly desirable seaside location in the West, which stands out as a land of possibilities.
Oases of sophistication and comfort
The superbly appointed Bijou Résidence apartments are adorned with contemporary fixtures and fittings for a quiet and inspiring lifestyle within sight of gorgeous natural scenery through…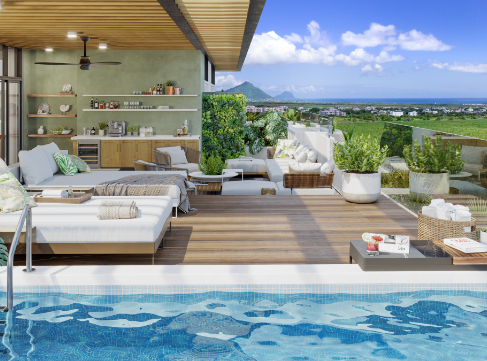 Ultimate tropical

retreats
Perched on the top floor, the meticulously crafted penthouses of Bijou Résidence are stylish and relaxed getaways infused with an effortless sense of space and grandeur…
Lavish homes in the midst of nature
Bijou Résidence offers a limited collection of carefully curated double-storey villas imbued with a strong sense of style and personality for discerning buyers seeking exclusivity, serenity and modern…
DOWNLOAD THE BIJOU RÉSIDENCE
Take a minute to fill out the form below to download our brochure and learn more about Bijou Résidence on the west coast of Mauritius.
In a rapidly evolving global landscape, Mauritius has emerged as a shining beacon for businesses, earning its place amon…
In a significant move towards bolstering healthcare services in Mauritius, the renowned Medine Group has announced its a…
The West of Mauritius has long been a region of potential and promise, and now, with the announcement of "The West" by M…